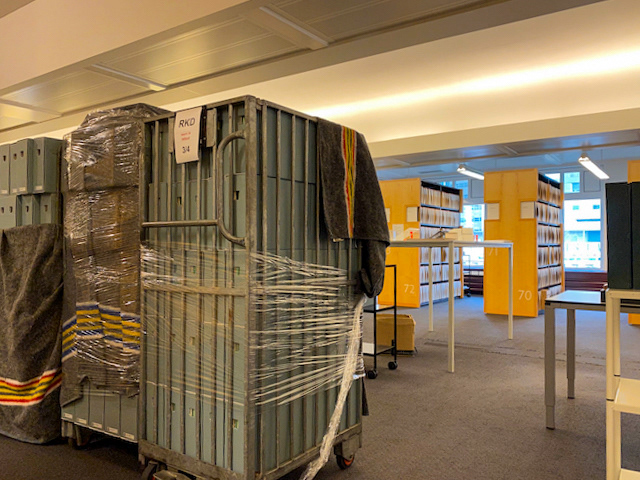 On December 3rd a small group of first-year students art history students visited the RKD in The Hague. The excursion was organized by Mrs Laura Plezier and the tour of the RKD was conducted by RKD librarian Hans Wijgergangs who studied art history at Leiden University 30 years ago. The abbreviation RKD stands for Het Rijksbureau Voor Kunsthistorische En Ikonografische Documentatie and was founded in 1932. The RKD has the largest collection of books and documentation on Netherlandish art in the world.
In my imagination the RKD was a magical place filled with mountains of books, auction catalogues, documents, photographs and artists' correspondence. A place where tweed-clad men, and women of course, smoking pipes would be conducting important research and have quiet intellectual conversations. A place where treasure could still be found. The reality was less romantic and much more practical.
At the start of the tour mister Wijgergangs informed us that all documentation and reproductions in the collection of the RKD from before WOII had already been digitized and that that was the reason we could see so many empty shelves in the library. He steered us straight to a computer terminal to explain how we could use the RKD website. In the meantime I was looking longingly at boxes still gathering dust further down the corridors.
Of course it is possible to search the database by artist name, but also by keyword or for instance search for artist's portraits. The website is quite extensive and clear, some knowledge of the Dutch language is required though. For documentation on modern and contemporary art a visit to the actual RKD is still necessary and of course the large collection of books has not been digitized. Quite interesting are the boxes full of press clippings and articles on artists, exhibitions and other art-related subjects.
All in all, I find that the RKD library is a place you need to visit when you're interested in Netherlandish art.